Adelitas Way & Gemini Syndrome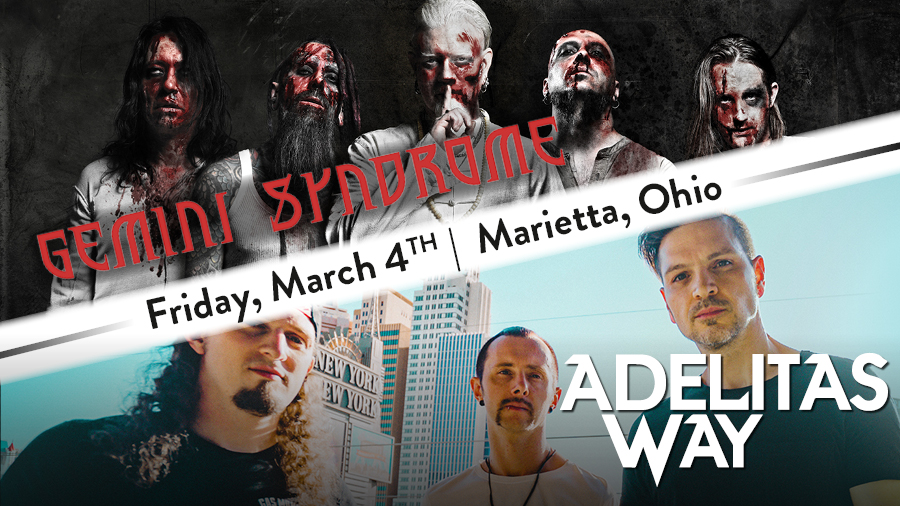 Adelitas Way & Gemini Syndrome
Adelitas Way:
An independent American hard rock band formed in Las Vegas in 2006. The band's debut single "Invincible", broke them into the mainstream scene after the song made numerous television appearances in commercials and live sporting events. As of 2017, the band has toured with notable acts such as Guns N' Roses, Creed, Papa Roach, Godsmack, Theory of a Deadman, Seether, Three Days Grace, Breaking Benjamin, Deftones, Puddle of Mudd, Sick Puppies, Shinedown, Staind, Alter Bridge, Skillet, Halestorm, Thousand Foot Krutch and others.
Gemini Syndrome:
An American alternative metal band formed in 2010 in Los Angeles, California. The band currently consists of vocalist Aaron Nordstrom, drummer Brian Steele Medina, bassist Alessandro "(AP)" Paveri and guitarists Miguel "Meegs" Rascon and Nicholas Paul Arnold. Their debut album, titled Lux, was released in September 2013. Reviewers drew comparisons to bands like Mudvayne, Five Finger Death Punch, and Tool. Four singles spawned from Lux: "Pleasure and Pain," "Left of Me," "Basement," and "Stardust," which peaked at no. 19 on the Mainstream Rock Tracks chart.
Gemini Syndrome released their sophomore album, Memento Mori, on August 16, 2016, which hit #1 on Billboard Heatseakers Charts Five singles spawned from Memento Mori: "Eternity, "Anonymous," "Alive Inside," "Sorry Not Sorry", and "Remember We Die," which reached no. 24, and spent 20 weeks on the Mainstream Rock Tracks chart.
On July 23, 2021, the band announced their third album 3rd Degree - The Raising to be released on October 15, 2021. The album will feature the three previously released singles, "Die With Me," "IDK," and "Reintegration," along with a newly released single "Abandoned"
Date
March 04, 2022
Showtime
Doors open at 8:30 pm
Show starts at 9:30 pm
Reservations
Tables are first come, first serve.
Tickets
Presale: $27.50
Day of Show: $30
Social Media