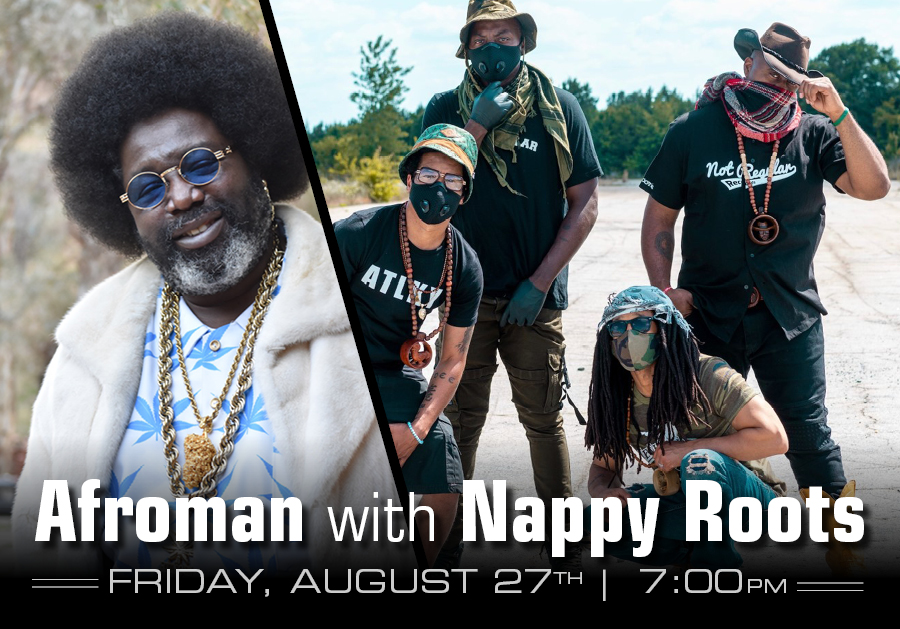 Afroman and Nappy Roots
AFROMAN
Rapper Afroman achieved commercial success with the gold-certified, top 10 album Good Times in 2001. His breakout hit, "Because I Got High" earned a 2002 Grammy nomination for Best Rap Performance.
"One of the most entertaining shows of 2021. Afroman isn't just an artist, he's a total performer. Crowds love him!" (Entertainment 4U)
NAPPY ROOTS
Nappy Roots is an American alternative Southern rap quartet from Louisville, Kentucky. The group met in Bowling Green, Kentucky in 1995 while attending Western Kentucky University. They are best known for their hit singles "Po' Folks", "Awnaw", "Roun' The Globe" and "Good Day".
Openers: JMAYZ, Etan Drawz, Vinnie & The Lubricators
Afterparty: Vinnie & The Lubricators
Date
August 28, 2021
Showtime
Doors open at 6:00 pm
Show starts at 7:00 pm
Reservations
Standing room only at this event
Tickets
Cost is $40 per ticket
Social Media