Buffalo Wabs & The Price Hill Hustle
with OYO!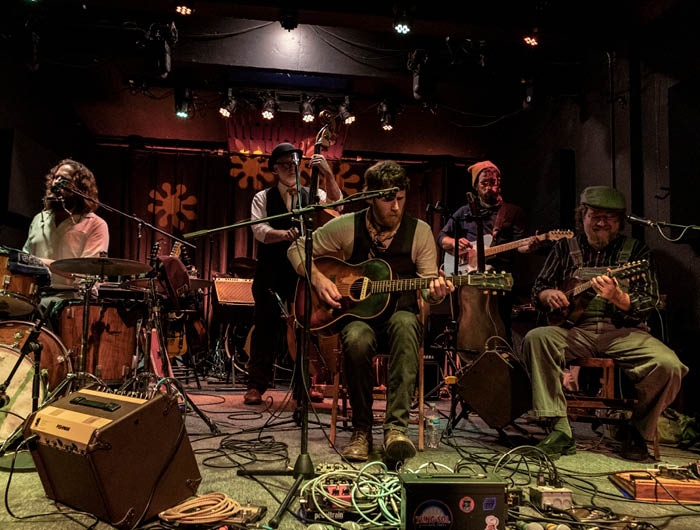 Buffalo Wabs & The Price Hill Hustle
The Cincinnati-based ensemble Buffalo Wabs (as in 'mobs') and the Price Hill Hustle can be best described as 'American'-- from the mountains to Music Row, blues-gospel to traditional country, the Hustle combines parts of the American-born genre catalogue to create an energetic experience every single night.
This four-piece moves from fast-paced, foot-stomping anthems to harmony-laden ballads and traditional dirges of spirit and labor. "The group started around the love of music that moves you," says drummer/vocalist and band spokesman, Casey Campbell. "The music accompanies the story; and sometimes the music is the story by which we can all connect to one another."
The members of Buffalo Wabs and the Price Hill Hustle are:
Matt Wabnitz aka Buffalo Wabs - Lead guitar, lead vocal.
Casey Campbell aka The Deacon - Drums/percussion, vocal
Scott Risner aka The Kentucky Waterfall - Mandolin, vocal, resonator guitar, tenor banjo
Bill Baldock aka Bullseye Bill - Upright bass, vocal
OYO
Born on the banks of the Ohio River, Oyo formed from jam sessions in the back of Marietta's JustAJar Design Press. Gathered around a single mic, their high-energy performances are equal parts honky tonk and barn dance, with an indie-rock sensibility.
Date
January 20, 2024
Showtime
Doors open at 8:30 pm
Show starts at 9:30 pm
Reservations
All shows are 18+
Tickets
General Admission $15