DOYLE
With Red Devil Vortex & Truckstop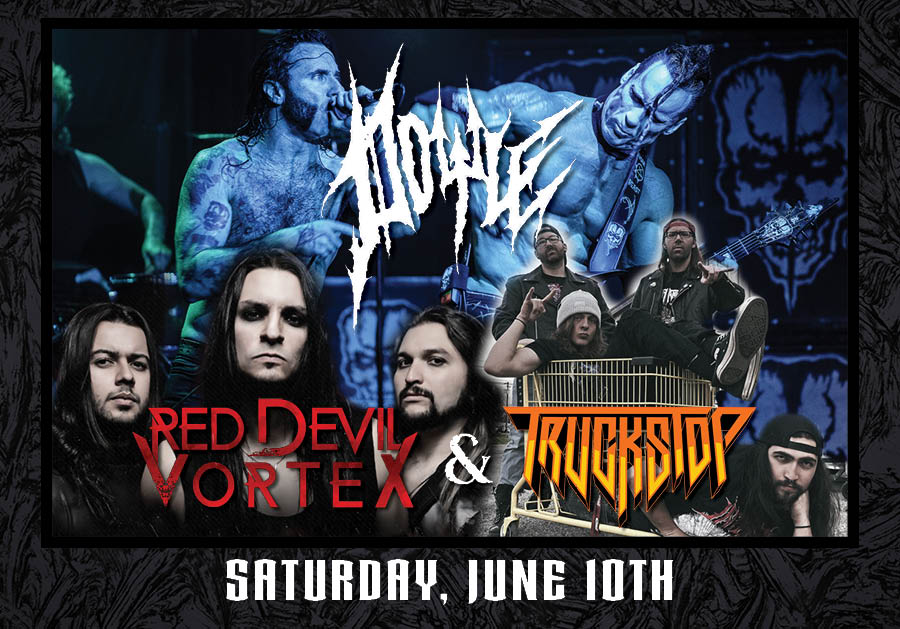 DOYLE
Doyle
The unmistakable sound of Doyle's signature Annihilator guitar cuts through on every tune like a sonic fingerprint, starting with the snarling opening title track "Abominator". The Annihilator's tone is sharp as a butcher's knife in the wrong hands and just as nasty- fans of the Misfits will recognize it right away. On tunes like "Headhunter" and "Land of the Dead" the riffs are relentless, and if a riff could be described in emotional terms, remorseless. "Dreamingdeadgirls" brings a blackened-blues swing, and the doom-laden "Love Like Murder" shows a healthy appreciation for all things Sabbath. "Blood Stains" moves from primal sludge to ripping off-time thrash with ease. The album is just that- an album, a cohesive and well executed piece of work that takes the listener on a journey; albeit a bloody journey to places some fear to tread.
Red Devil Vortex
Describing their muscular blend of hard rock, post-grunge, and alternative metal as "chaotic music to make love and war to," West Coast power trio Red Devil Vortex launched in 2016 in Los Angeles, California, but the group originated in South America. Citing influences like Kiss, Alice in Chains, Black Sabbath, and Muse, vocalist/bassist Gabriel Connor and guitarist/vocalist Pablo Kravicz were members of the popular independent Brazilian hard rock/heavy metal outfit Livin Garden for over a decade -- the band issued two studio albums (Where I Can Breathe [2009] and Bring It On [2014]) before disbanding in 2015. After relocating to Los Angeles and adding Iago Marcondes behind the kit, the newly minted Red Devil Vortex issued their debut single, "The Fallen," and began making their presence known in the Southern California heavy music scene with performances alongside hard-hitting contemporaries like Uli Jon Roth, Dayshell, Saliva, and I Am Morbid. In 2017 they headed into the studio with producer and songwriter Augustus Cryns (Butcher Babies, Anti-Flag, Westfield Massacre) and began laying down tracks for what would become their debut EP. The resulting Something Has to Die arrived in May of the following year.
Truckstop
TRUCKSTOP formed in 2020 during the pandemic in Parkersburg, West Virginia. Jerry Larew, Justin Ewing and Nash Morris had already been playing music together, but decided to create something with more thrash-based roots. Larew had a backpack full of material he brought to the table, and since they were roommates, they could all continue to write while they were stuck inside. They began practicing with Austin Erb via Zoom, and Facetime, and when the restrictions lifted they were able to finalize their debut album "Bloodwitch", which will be released during Summer of 2022. "Bloodwitch" is being Produced by Dave Hillis at The Vault Recording Studio and The Meat Locker Recording Studio. Hillis has an impressive resume and has worked with Pearl Jam, Alice in Chains, Temple of the Dog, Blind Melon and more. He also played guitar for MACE, a killer 80s thrash cross-over band. With influences like Metallica, Overkill, The Misfits, My Chemical Romance, and Avenged Sevenfold the guys knew they wanted to create a thrash-based sound with more clean vocals.
Date
June 10, 2023
Showtime
Doors open at 8:00 am
Show starts at 9:00 pm
Reservations
All shows are 18+
Seating is first come first served and may be limited
Tickets
Advanced • $25
Day of show • $30