Sadsquatch, The Wearing Hands, and Becker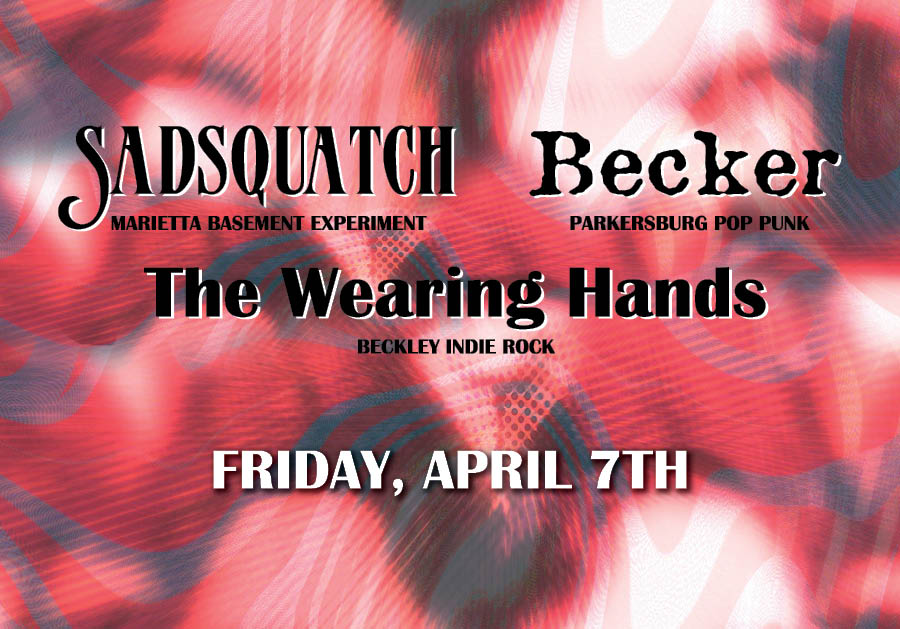 Sadsquatch, The Wearing Hands, and Becker
Sadsquatch
Made up of Seth Anderson on vocals, Nate Shahan and Jimmy Woodward on guitar, Dan Lee on bass, and Jake Dunn on drums, Sadsquatch is a sonic amalgamation of a purposefully chaotic array of diverse influences. Like an idiosyncratic antenna for a FM radio in an alternative dimension, bandleader Seth Anderson opens himself up to narrating everything from delirious, heavy-hitting Led Zeppelin-level sonic sludge to hopped up, groove-laden indie rock that borrows unashamedly from the delectable memory residue of the alternative rock '00s.
The Wearing Hands
The Wearing Hands is an indie rock band based in Beckley, West Virginia. The group developed a focus on creating music that seamlessly explores a huge range of styles, including alternative rock, post-punk, dream-pop, and shoegaze, only to mention a few.
Becker
Becker is three 30 somethings "expressing themselves" like a bunch of teenagers.
Date
April 07, 2023
Showtime
Doors open at 8:00 pm
Show starts at 9:00 pm
Reservations
All Shows are 18+
Tickets
Advanced • $10
Day of event • $12