The Southeastern Sessions
Songwriters in the Round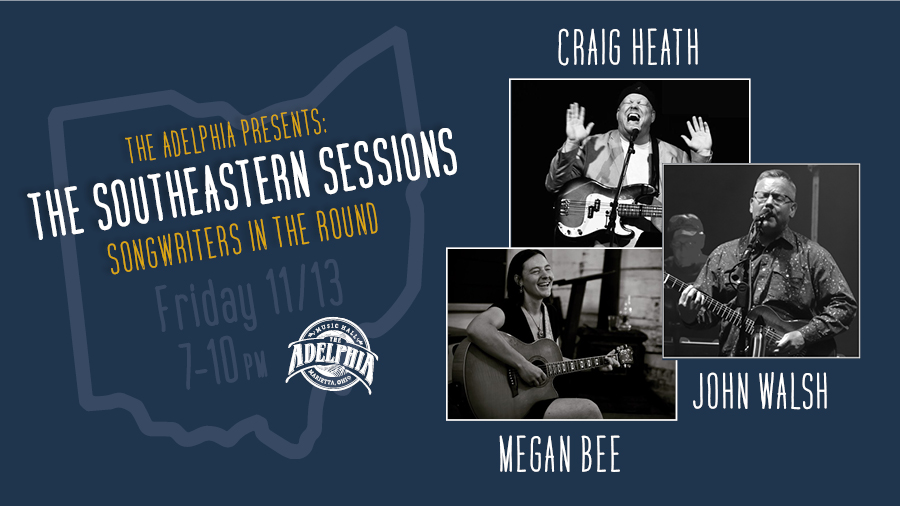 The Southeastern Sessions
Join us for the very first episode of The Southeastern Sessions featuring three of the region's premier Singer/Songwriters – Craig Heath, Megan Bee and John Walsh.
An evening replete with savory original music for your listening pleasure; our performers will perform their songs "in the round." They have a tasty blend of Americana, Folk, Acoustic Rock, & Country cooked up for us to enjoy.
So, come and hear the stories and musings of Craig, Megan and John. All three, in addition to being seasoned songwriters, are highly talented musicians & vocalists. You really don't want to miss this show!
Seating is limited as we diligently provide socially-distanced dining & entertainment – reservations are highly encouraged. Call or stop in to reserve your table anytime! 740.374.8278
Craig Heath
Craig S. Heath is a four-time Ohio Music Awards winner based in the Hocking Hills region of southeastern Ohio. Craig has made multiple appearances at the renowned Bluebird Cafe in Nashville, TN and has also been a featured performer on the PBS national broadcast of Songs at the Center. His music has been heard on television shows like Broad & High as well as documentaries and films. His songs have also been featured on NPR's "Crossing Boundaries". He has toured/performed in 30 states, Ireland, and England as well as the African continent. He has opened for the likes of Livingston Taylor, Joe Crookston, and Jill Andrews and is a three-time winner of the Columbus Songwriters Association showcase. His recording career began in 2006 with "Fate of Foreigners", a full-length CD that signaled his arrival on the songwriting scene. Other projects include "Big Green Mountain" and "Celtic Ballads" as well as collaborative projects like "The Great Divide" and "Simple Song".
https://youtu.be/PtIrER--jDQ
Megan Bee
Website link: https://meganbeemusic.com
FB Page link: https://www.facebook.com/meganbeemusic
Megan Bee writes with an unquenchable wanderlust, a raw love for the land, and a storytelling skill that is saturated by her background as an environmental educator, farmer, and traveler. Her Americana style incorporates distinctly homespun vocals, acoustic simplicity, and a yearning soulfulness. In the summer of 2020 she released her third studio album, "Waiting." The album follows her 2017 release "Like a Canyon" which won The Ohio Music Awards Best Americana and Best Singer-Songwriter Album along with a finalist spot in the 2018 USA Songwriting Competition.
"...warm and inviting...incredibly organic sounding. It sounds pure and human throughout."
Divide and Conquer
https://youtu.be/yjREtwHjPwY
John A. Walsh
Website link: https://johnawalsh.com/
FB Page link: https://www.facebook.com/jawsongs
A well-known Mid-Ohio Valley musician, John Walsh's songwriting has been described as "intensely personal," "he sang what I wanted to say…" and, "the lyrics read like a painting…" Over the years, Walsh has written scores of songs and has performed both as a soloist and in a variety of bands all over the United States. John has had the opportunity to play on the same stage with notables such as Jason Isbell, Lucy Kaplansky, Tim O'Brien, Dennis DeYoung, Amanda Shires, Larry Groce, Todd Burge and Larkin Poe. He has released nine albums of original music. Both an artist and facilitator of the arts in the MOV, Walsh served as a board member of the West Virginia Music Hall of Fame; formerly served on the Hippodrome/Colony Historic Theatre Association board; and, was instrumental in the development and opening of The Adelphia Music Hall. In 2013, John released The Fields of Gettysburg. John's all original song cycle brought real historical characters to life, enabling the listener to get to know people of the day on a personal level. The record, co-produced by Parkersburg singer/songwriter, Todd Burge, brought together an impressive ensemble of musicians, including Mountain Stage's Larry Groce and Michael Lipton, two-time Grammy winner Tim O'Brien, Jessica Baldwin, Colton Pack and Justin Arthur. Met with wide critical acclaim, The Fields of Gettysburg was featured on NPR's Mountain Stage and at The Gettysburg National Park's Museum Gift Store. The album is currently available at Tamarack's "The Best of West Virginia."
https://youtu.be/ln9tV9x5Lnw
Date
November 13, 2020
Showtime
Doors open at 5:00 pm
Music starts at 7:00 pm
Reservations
Reservations are highly recommended. Please call 740.374.8278 to reserve your table.
Tickets
Admission to this event is FREE
Social Media