Vinnie & The Lubricators
with Sadie Johnson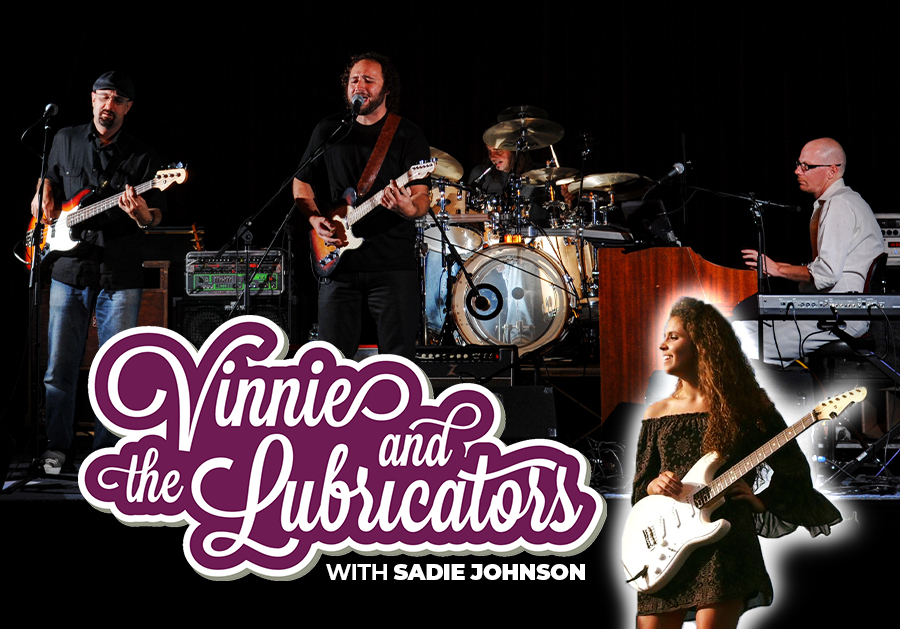 Vinnie & The Lubricators
---
Vinnie and the Lubricators
If you're craving some rockin', funky, bluesy tunes and some country t'wang be sure to check out Vinnie and the Lubricators, America's premiere "Rock, Blues, Reggae and Soul" review, with a lineup of songs sure to satisfy show-goers of any generation.
Vinnie and the Lubricators encompass a wide range of genres in their music, offering elements of classic rock, country, blues, and soul with hints of reggae and funk thrown in the mix.
"It all goes back to roots music for us. We offer a lot of originality and creativity and we love to jam," says Mele. "We're all about spontaneity and really feed off each other. We like to take our audience on an emotional ride through our set, and a lot of our grooves get people on the dance floor." So, check out Vinnie and the Lubricators if you want some toe tapping, hip shaking, can't stay in your seat kind of music. IT'S ALWAYS A MUSIC PARTY!
---
Sadie Johnson
Sadie Johnson is a blues-rock musician from Bloomington, Indiana.
"From the first turn of 'Key to the Highway' to finding out how it 'Got To Get Better In A Little While,' the band burned through 13 songs leaving the sparse crowd wanting more and more. The audience just couldn't look away and they were left with a big smile on their collective face." (Paul Mattingly - WUEV)
Date
October 22, 2021
Showtime
Doors open at 8:00 pm
Show starts at 9:00 pm
Reservations
This show is standing room. Seating is first come, first serve.
Tickets
Presale Ticket: $10
Day of Show Ticket: $15
Social Media