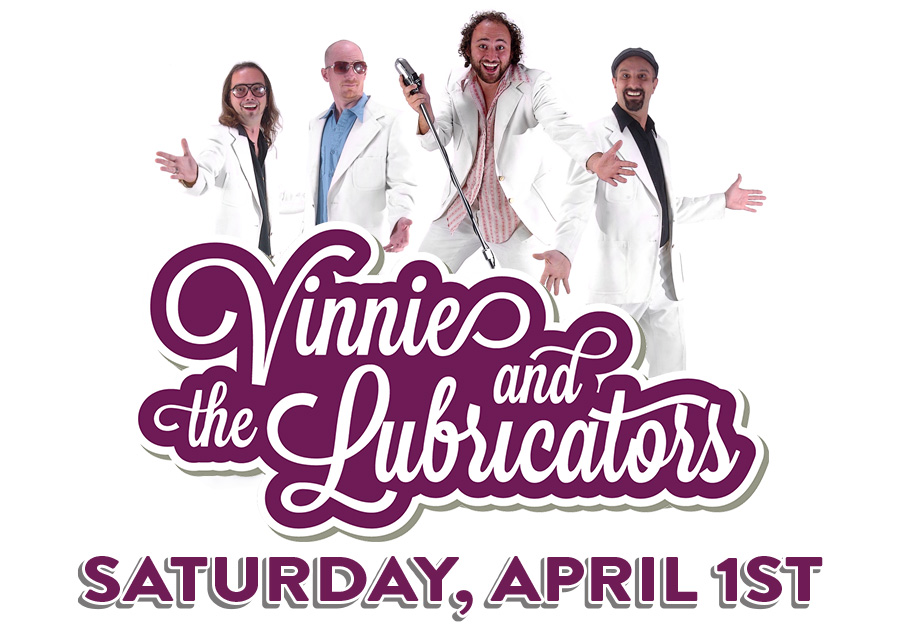 Vinnie & The Lubricators
If you're craving some rockin', funky, bluesy tunes and some country t'wang be sure to check out Vinnie and the Lubricators, America's premiere "Rock, Blues, Reggae and Soul" review, with a lineup of songs sure to satisfy show-goers of any generation.
Vinnie and the Lubricators encompass a wide range of genres in their music, offering elements of classic rock, country, blues, and soul with hints of reggae and funk thrown in the mix. You'll hear all your favorite 60's, 70's, 80's and 90's songs from top artists like Al Green, Wilson Picket, Stevie Wonder, James Brown, The Bee Gees, The Police, Men at Work, The Allman Brothers Band, Bob Marley, and many more.
"It all goes back to roots music for us. We offer a lot of originality and creativity and we love to jam," says Mele. "We're all about spontaneity and really feed off each other. We like to take our audience on an emotional ride through our set, and a lot of our grooves get people on the dance floor."
The members of Vinnie and the Lubricators—whose name is derived from their shared love of mechanics and cars especially—have a laid back composure and a tight synchronization like that of a well-oiled machine. Vinnie Mele with his rich blues-style vocals and smooth guitar riffs is joined on stage by Chris Shepard providing steady beats on the drums, Jason Feathers bringing the Hammond Organ to life, and Jeremy Harmon laying down the low end with his tasty bass licks.
Vinnie will captivate you with his voice as well as his smooth guitar melodies; Jason will energize you with his dynamic keyboard grooves; Chris will get your heart pounding to the rhythm of his drums; and Jeremy will drive you with his bass as he provides the pulse of the band.
Date
April 01, 2023
Showtime
Doors open at 8:00 pm
Show starts at 9:00 pm
Reservations
All shows are 18+
Tickets
Advanced • $8
Day of Show • $10