Ying Yang Twins, Paul Wall, & Murphy Lee
Don't miss this ultimate dance party at The Adelphia Summer Concert Series!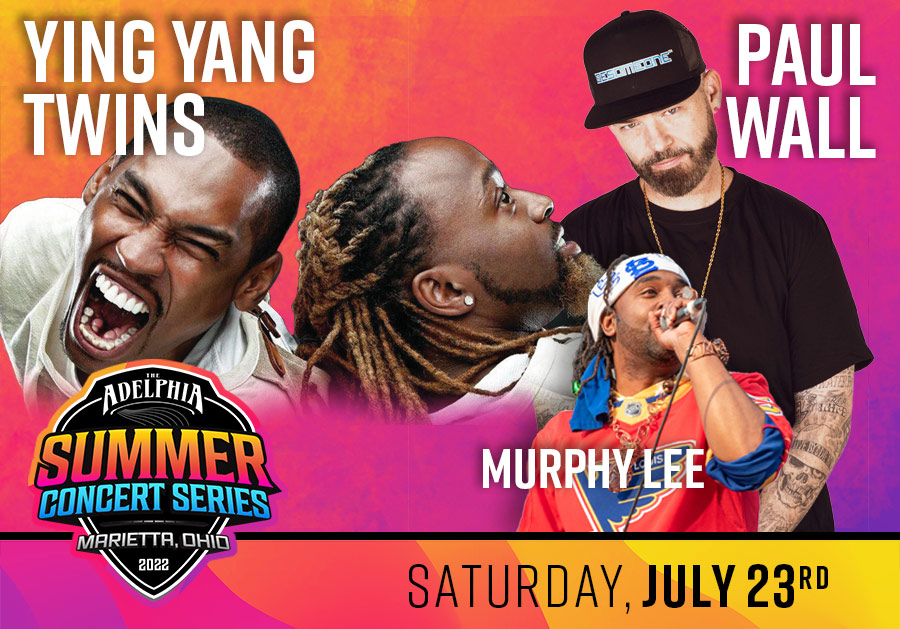 Ying Yang Twins, Paul Wall, & Murphy Lee
This is an outdoor concert - partial standing room only, rain or shine!
Ying Yang Twins:
Atlanta's party rap duo Ying Yang Twins scored a hit with the single "Whistle While You Twurk," which received nationwide airplay on urban and crossover radio stations. Their full-length debut album, Thug Walkin', appeared later in 2000. Alley...Return of the Ying Yang Twins from 2002 sold well down South, but it was the duo's 2003 team-up with Lil Jon -- "the King of Crunk" -- that brought them nationwide success. The party anthem "Salt Shaker" was a massive club and radio hit and soon had the TVT label chasing the duo to sign. They did, and their first album for the label, Me & My Brother, yielded two more crunk hits, "What's Happnin!" and "Naggin'." The same year the duo appeared on Britney Spears' album In the Zone and her television special of the same name. In 2004, TVT released the remix-filled My Brother & Me with a bonus DVD.
Paul Wall
MC and DJ Paul Wall (born Paul Slayton) grew up as a hardcore disciple of fellow Houstonian DJ Screw and became so familiar with the pioneering DJ's woozy, slowed-down style of remixing that he had to adjust to hearing hip-hop at any other tempo. Prior to making a nationwide breakout in 2005 with a guest spot on Mike Jones' "Still Tippin'" and his Swishahouse/Atlantic Records debut, The Peoples Champ, Wall was involved with promotional street teams, DJ'ed parties, put together underground mixtapes, and was half of the Color Changin' Click with Chamillionaire. He recorded 2002's Get Ya Mind Correct with his partner, and then followed that with 2004's solo Chick Magnet. Controversy Sells, another disc billed to Wall and Chamillionaire, hit the streets in early 2005, just months before Wall kicked off support for the chart-topping Peoples Champ.
Murphy Lee:
Whether you know him as Murph Derrty, the school boy, Mr. Winter Time, or Grandpa Game Tight; Tohri "Murphy Lee" Harper has been wowing audiences all over the world for over two decades with his flirtatious flows and manipulative metaphors. As the youngest member of the multi-platinum selling group, The St. Lunatics, Murphy Lee exploded on the scene holding his own with some of the heavy hitters in the music game. In Jermaine Dupri's "Welcome to Atlanta" remix, which also featured Snoop Dogg and P. Diddy, Murphy Lee stood out as a shinnying star; representing St. Louis as a city with major talent. He partnered again with P. Diddy and Nelly on his first single "Shake a Tailfeather" which was also featured on the Bad Boys II soundtrack. It soared to the top of the charts to become a number 1 hit, selling over 2 million copies and winning a Grammy. He continued to light up the charts with hits like "Wat the Hook Gone Be" and "Luv Me Baby"- produced by beat bangers Jermaine Dupri and Jazze Pha respectively – both landing on the Top 40 charts from his first platinum solo album Murphy's Law.
Date
July 23, 2022
Showtime
Doors open at 6:00 pm
Show starts at 7:00 pm
Reservations
No refunds. All sales are final.
All shows are 18+ or accompanied by an adult.
Tickets
General Admission
Advanced • $45
Day of Show • $50